Northamptonshire Police Is The Territorial Police Force Responsible For Policing Northamptonshire In The East Midlands of England
The crown and the police care nothing about justice and only care about obtaining a conviction regardless of who gets destroyed.  We have a police force who go around charging people who can barely get by for doing things they themselves do.  Is this right. Does a free country have a police force that runs itself like a corporation where it is all about getting whatever cash they can from a already victimized population.   Justice has very little to do with anything anymore.  An officer who places charges and even though they realize they made a mistake they are told to never go back on the charges they lay. Continue reading →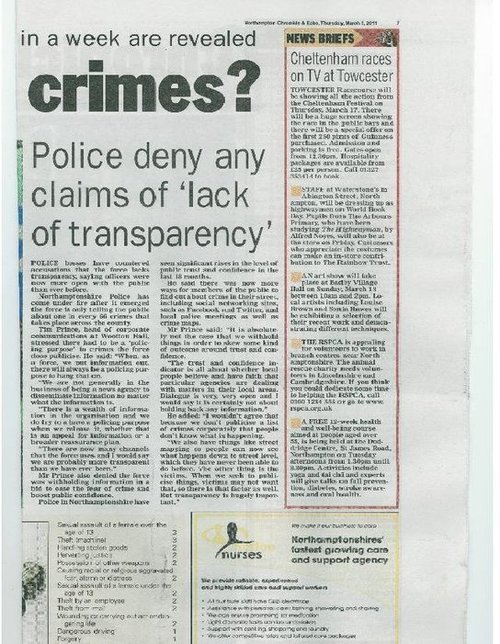 Inspectors have told Northamptonshire Police chiefs that more must be done to protect vulnerable children in the county, warning "there is still much to do". Continue reading →
Child Protection: Northamptonshire Police responds to critical HMIC inspection but has more to do
A series of inspections by HM Inspectorate of Constabulary (HMIC) has found that Northamptonshire Police has more progress to make before it can offer assurance that children at risk in the county are being adequately protected.
A further inspection by HMIC in March found the force had developed a plan for how it would improve its approach to child protection. But, there were still concerns and HMIC considered that more progress should have been made. Continue reading →
I believe that keeping silent when an injustice is taking place is condoning it.
Federal Court: Bloggers Have Same First Amendment Rights As Journalists