Fight CPS Legal Document And Information Library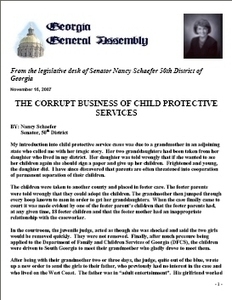 Department of Family and Children Services (DFCS) 
via Report of Georgia Senator Nancy Schaefer on CPS Corruption.
"In this report, I am focusing on the Georgia Department of Family and Children Services (DFCS). However, I believe Child Protective Services nationwide has become corrupt and that the entire system is broken almost beyond repair.  I am convinced parents and families should be warned of the dangers."
Ted Gunderson, FBI (ret), was interviewed on 9/8/2007 regarding his experience confronting the corruption in the CIA, FBI and the Federal, State, and Local governments:
"If habeas corpus were abolished  we may find our hard-won freedoms diminished and ourselves as vassals to an over-mighty executive set loose from the restraint of the law". 
USA – The Supreme Court's Parental Rights Doctrine
Our nation has consistently maintained that parents possess a fundamental right to raise their children as they see fit.
This belief has been upheld by our judiciary in numerous Supreme Court cases that reflect the American people's longstanding commitment to parental rights. The excerpts below are drawn from key Supreme Court cases protecting the right of parents to raise their children. It is critical that we place the current Supreme Court doctrine on parental rights into the explicit text of the United States Constitution in order to preserve the vital child-parent relationship. The principles below are referred to as the Parental Rights Doctrine. Continue reading →
Remember:
(1) Do not give CPS any self-incriminatory information on affidavits, declarations, or other legal documents. Click here for further information →
Most often, court appointed attorneys in Juvenile Court simply guide the parents through the hearings and advise them to sign a plea or stipulation of some kind, which implicates them as being guilty. If the parents sign (most do because their court-appointed attorneys are advising it) there will be no trial – no opportunity for them to protest their innocence or defend themselves. Without a trial there's never going to be a time when the CPS social worker has to prove the county's case.
So what should CPS victim-parents do to counteract the problem of having a court-appointed attorney who won't aggressively defend them?
A few years ago I advised parents to write a letter to their attorneys to let them know what is expected of them. Get this on paper and keep a copy. If the attorney refuses to at least attempt to provide an adequate defense you'll have proof that you requested one, and can sue in civil court for legal malpractice. Let's hope your attorney problem never gets to that point.

I believe that keeping silent when an injustice is taking place is condoning it.