Centralized Government 
It is normally understood to be a state which is neither dependent on nor subject to any other power or state. The existence or disappearance of a state is a question of fact.

 

While according to the declarative theory of state recognition a sovereign state can exist without being 

recognised

 by other sovereign states, unrecognised states will often find it hard to exercise full treaty-making powers and engage in 

diplomatic

 relations with other sovereign state
Absolute Immunity From Civil action

If you are unaware of the difference between law and procedure, please click the black button.
Absolute Immunity  is a form of legal immunity in contrast to qualified immunity. While qualified immunity, by its very nature, carries with it a set of conditions that must be fulfilled in order for the… Continue reading →
Laws can be made by legislatures through legislation (resulting in statutes), the executive through decrees and regulations, or judges through binding precedents (normally in common law jurisdictions).
Proceedings to bring writs of mandamus and prohibition were always available against ministers, because their actions derive from the royal prerogative this had the effect of allowing proceedings for tort and contract to be brought against the Crown. Proceedings to bring writs.
Mandamus is a judicial remedy in the form of an order from a superior court, to any government subordinate court, corporation, or public authority—to do (or forbear from doing) some specific act which that body is obliged under law to do (or refrain from doing)—and which is in the nature of public duty, and in certain cases one of a statutory duty. It cannot be issued to compel an authority to do something against statutory provision. For example, it cannot be used to force a lower court to reject or authorize applications that have been made, but if the court refuses to rule one way or the other then a mandamus can be used to order the court to rule on the applications.
However, civil proceedings can, in theory, still be brought using the two original mechanisms outlined above – by petition of right or by suit against the Attorney-General for a declaration.
via Absolute Immunity.
There are only certain complaints you can make with about a judge. Technically you can not make a complaint about a Judge'.whilst they are still on the bench.  Judicial Immunity is a form of #legal immunity which protects judges and others employed by the judiciary from lawsuits brought against them for judicial actions, no matter how incompetent, negligent, or malicious such conduct might be, even if this conduct is in violation of statutes.
Promotion of Sister Vallarah EL Bey – Black's Law
Always ask Why… And if one says you can't, ask WHY NOT?
 Always attend Court. The golden rule is to Let the Court know you are presenting yourself to them. If you do not attend the Court, the Court will put a man hunt out for you.
Forget about al the #media hype presented to you in tabloid press, when they report that the '#celebrity is COMING to Court.
Many are So ignorant of the LAW that they do as their CLERK recommends. There is and will be No true Justice in the Family system until these lazy slacking Trough snuffler's are exposed and brought to book for their indifference to their standing and position of trust.
Hollywood couldn't come up with a better script than this. A gang member was convicted in 1986 of double murder by two prosecutors who are now accused of coercing witnesses into giving false testimony against him; and he was sentenced to death by a judge who had taken a bribe.
One of those two prosecutors will have to answer for his alleged actions after the Chicago-based 7th U.S. Circuit Court of Appeals ruled last week that he did not have immunity. http://sco.lt/6M9n73
 via Report of Georgia Senator Nancy Schaefer on CPS Corruption.
IN THE NORTHAMPTON COUNTY COURT  His Honour Arthur Anthony JUDGE RUMBELOW QC  A Circuit Court Judge Assigned to the Northern Circuit.
CASE NUMBER NN13P00882
Ngozi Godwell vs Northamptonshire Local Authority

The position was drastically altered by the Crown Proceedings Act 1947 which made the Crown (when acting as the government) liable as of right in proceedings where it was previously only liable by virtue of a grant of a fiat .. Fore more about Absolute Immunity Continue reading →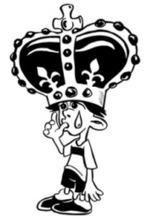 A Donation to TowardChange will be received with gratitude. Thank you and wishing you a fabulous day!