District Judge Dorothy Flood And Children's Guardian Michael Gregg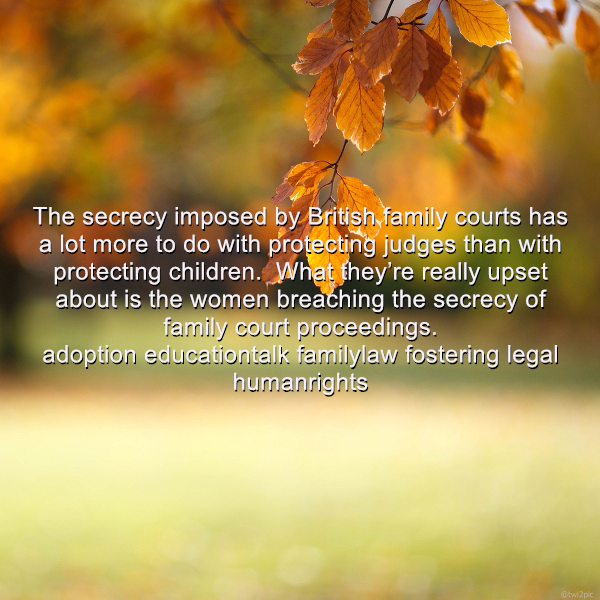 District Judge Dorothy Flood acts as a lawyer for Guardian's and does represent them in care proceedings.  Indeed when I did first meet her she was acting for  Guardian Mr Richard Lee in a hearing at Northampton County Court in 2009.  In 2014 the same judge appointed a Guardian in the case managed by Rumbelow.  Flood did not consult with the applicant. The initial Guardian did refuse the case,  the judge then did appoint Michael Gregg (he is a bad man, should not be allowed near children). Why did the judge appoint a Guardian for the 15 year old child?
To hide her crimes and that of others.  Then they began destroying court documents and other files relating to the first case which did originate back to 2008. Read the judgment and you find Rumbelow make reference to police records not being present. All that was, is Rumbelow giving the thumbs up to the police and the other slimeballs, the deed is done all documents are removed from public inspection.  Remember the name Clair King, run and never ever have her in your case.   On the day I did meet her, I did accept I was walking with the devil and all those around her are part of the gang.
His Honour Judge Stephen Phillip Waine
An appeal by a father against the rejection of a request that a CAFCASS officer have the opportunity to see his child to discuss the possibility of future direct contact with him.  G (A Child) [2006] EWCA Civ 348
Family justice: who are protecting our children?
via His Honour Judge Stephen Waine.
It is time the voices of children are heard. I am thinking especially of the many in care who do not need to be. Children who's needs could be better met at home with their own parent/s – maybe they have cultural/ethnic needs that are not being met and in danger like many before them of growing up confused without any regular role model.
What can be done to achieve giving the children a voice?
The only answer is to dismantle Social Services
Children In Foster Care and Stockholm Syndrome Stockholm syndrome, or capture–bonding, is a psychological phenomenon in  …  Continue reading →
Reevaluating the Evaluators:
Rethinking the Assumptions of Therapeutic Jurisprudence in the Family Courts
This article discusses the minimum disclosures every child custody evaluator, "best interests" guardian ad litem GAL [1], or parenting coordinator (herein called a "mental health professional" or "MHP") [2a] should be required to make, responding satisfactorily and in full, before being appointed in any family law case to do anything beyond answering a list of limited, detailed, specific, and narrowly-crafted questions the answers to which are directly within the MHP's field of proved expertise. This format is being used to help illustrate a problem, and with another purpose in mind. That purpose is to call for a revolt altogether against the notion of "therapeutic jurisprudence" — which has been proved to do little to benefit children, much to benefit the divorce industry, much to complicate and pervert our family laws, much to erode fundamental rights and liberties, and much to harm the families who become trapped in the system. There are many problems, of course. But they are symptoms. Step one is to get the agent of most of them out of our family courts.  Continue reading →
The case of Mr Timmy Lang
Key Judges:  District Judge flood and HHJ Waine.
IN THE NORTHAMPTON COUNTY COURT  His Honour Arthur Anthony JUDGE RUMBELOW QC  A Circuit Court Judge Assigned to the Northern Circuit.
CASE NUMBER NN13P00882
TowardChange on Paperli
ACTIVIST 4 CHILDREN AND FAMILIES

 via Report of Georgia Senator Nancy Schaefer on CPS Corruption.