Rule of Law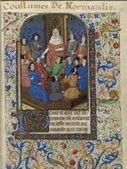 The British Constitution is not, as it is in many countries, a 'written constitution'. It is not codified in a single document but is made up of a complex web of statutes, conventions, and a corpus of common and other law. It is also informed by an interweaving of history and more modern democratic principles. The legal premise of the United Kingdom constitution – that the UK parliament is sovereign – is a fundamental part of our constitutional arrangements. This means that an Act of Parliament must be obeyed by the courts, that later acts prevail over earlier ones, and that the rules made by external bodies cannot override Acts of Parliament.
The application of constitutional due process is traditionally divided into the two categories of  Substantive Due Process and procedural due process.
Source: Rule of Law (World Treasures of the Library of Congress: Beginnings).
Rules for Daily Living
Completed in 1517, this text became the authoritative source of many of the laws of the Ottoman Empire until reforms occurred in the nineteenth century. This manuscript contains rules covering practically every human activity-spiritual rites, domestic relations, inheritance, commercial transactions, and crimes. Written by Ibrahim Al-Halabi, one of the most learned legal scholars in the sixteenth-century Ottoman Empire, the work has annotations within the main body and all around the margins, made by various commentators, some of whom have initialed their remarks (loc.gov).
Principles of Individual Liberty
The Magna Carta, the basic source of English common law. The Magna Carta established the principle that no one, not even the king, is above the law. The principles of individual liberty it confirmed influenced later political thinkers.
Child Guardians Dropping Connecticut Custody Cases
Circuit judge (England and Wales) – Wikipedia, the free encyclopedia
#WordPress #Tutorials: How to Show Related Posts on Your WordPress Blog
Related Articles  →

I believe that keeping silent when an injustice is taking place is condoning it.