Attorney General of the United States of America
Sourced from Wikipedia
Seal of the Department of Justice
Flag of the Attorney General
United States Department of Justice.
Style
Mister Attorney General/Secretary
Member of
Cabinet
Reports to
The President
Seat
Washington, D.C., United States
Appointer
The President
with Senate confirmation
Term length
No fixed term
Constituting instrument
Judiciary Act of 1789
Formation
September 26, 1789
First holder
Edmund Randolph
Succession
Seventh in the United States Presidential Line of Succession
Deputy
Deputy Attorney General
Salary
Executive Schedule, level 1
Website
www.justice.gov
The United States Attorney General (A.G.) is the head of the United States Department of Justice per 28 U.S.C. § 503, concerned with legal affairs, and is the chief law enforcement officer and chief lawyer of the United States government. The office is currently held by Dana J. Boente, who assumed the office on January 30, 2017, after the firing of acting Attorney General Sally Yates. The attorney general serves as a member of the cabinet of the President of the United States and is the only cabinet officer who does not have the title of secretary.
The Attorney General is appointed by the President and takes office after confirmation by the United States Senate. He or she serves at the pleasure of the president and can be removed by the president at any time; the attorney general is also subject to impeachment by the House of Representatives and trial in the Senate for "treason, bribery, and other high crimes and misdemeanors".
The office of Attorney General was established by Congress by the Judiciary Act of 1789.
Source: Former Utah attorney general pleads not guilty to corruption charges | NewsDaily.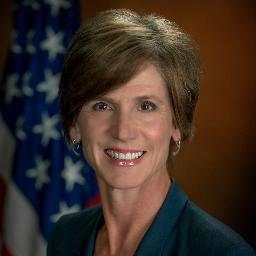 Sally Yates at her confirmation hearing answering her job-ending Q. Look who's asking. Via @charles_gaba https://t.co/3Vsf9UugIu
Thinking is difficult; that is why most people judge.
I believe that keeping silent when an injustice is taking place is condoning i