Brexit , England And The Scottish Parliament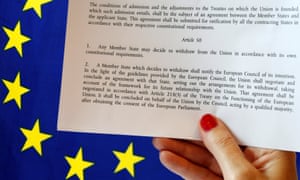 A parliamentary vote is needed as Brexit will lead to UK citizens losing their rights under EU law.
Article 50 bill cleared by Parliament as government wins final two Lords votes with 100-plus majorities.
Source: The Deadline For Invoking Article 50 Is Set | Europe.
5. If a State which has withdrawn from the Union asks to rejoin, its request shall be subject to the procedure referred to in Article 49.
Theresa May faces a fresh constitutional battle with the Scottish government after conceding that the Holyrood parliament could be allowed to vote on her Brexit plans.
Speaking as she debated the Queen's speech at Westminster, the prime minister said her government was considering whether to offer Holyrood the right to vote on the repeal bill that will enact the UK's departure from the EU.
Scotland's Brexit minister, Mike Russell, warned May that his government would ask the Scottish parliament to vote against that so-called legislative consent motion unless it was happy with its main measures.
That threatens to open up a series of conflicts between Westminster and Holyrood over which powers and policies now controlled in Brussels would be handed to Holyrood, and to the devolved parliaments in Cardiff and Stormont, and which would be kept in Whitehall.
Scottish Parliament
The Scottish Parliament Building(Scottish Gaelic: Pàrlamaid na h-Alba, Scots: Scots Pairlament Biggin) is the home of the Scottish Parliament at Holyrood, within theUNESCO World Heritage Site in central Edinburgh.