The Constitution – Ex Cathedra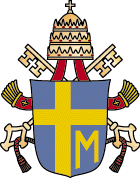 "We declare, say, define, and pronounce that it is absolutely necessary for the salvation of every human creature to be subject to the Roman Pontiff" 
(Pope Boniface VIII, the 
Bull Unam Sanctam
, 1302. evangelicaloutreach.org
The Magna Carta or Great Charter.  It is known world-wide as being the founding of modern principles of democracy and individual rights and freedoms while curtailing the power of the State which at the time was King John.

via The Constitution
King John is one of the more controversial monarchs of Medieval England and is most associated with the signing of the Magna Carta in 1215. John was born on Christmas Eve, the youngest son of Henry II and his wife Eleanor of Aquitaine.
John was born around Christmas in 1166 or 1167 in Oxford, the youngest and favourite son of Henry II.
On his father's death in 1189 his brother, Richard, became king. In 1199, Richard died and John became king. War with France was renewed, triggered by John's second marriage. While asked to mediate between the rival families of Lusignan and Angoulâme, he married the Angoulâme heiress Isabella, who had been betrothed to Hugh de Lusignan. A rebellion broke out and John was ordered to appear before his overlord, Philip II of France. His failure to do so resulted in war.
By 1206, John had lost Normandy, Anjou, Maine and parts of Poitou.  He was determined to win them back. This required money, so his government became increasingly ruthless and efficient in its financial administration. Taxes soared and he began to exploit his feudal rights ever more harshly.
Civil war broke out in May 1215 and the rebels seized London, John was compelled to negotiate further and, on 19 June at Runnymede on the River Thames, he accepted the baronial terms embodied in the Magna Carta, which limited royal power, ensured feudal rights and restated English law. It was the first formal document stating that the monarch was as much under the rule of law as his people, and that the rights of individuals were to be upheld even against the wishes of the sovereign.
Ex Cathedra
adjective, adverb
1.
from the seat of authority; with authority: used especially of those pronouncements of the pope that are considered infallible.
2.
(RC Church) (of doctrines of faith or morals) defined by the pope as infallibly true, to be accepted by all Catholics.
First recorded in 1810 – 20, ex cathedra is fromthe Latin word ex cathedrā literally, from the chair.
Note : Figuratively, any authoritative pronouncement may be called "ex cathedra."
Institute of Electrical and Electronics Engineers (IEEE):